Thanksgiving Turkey Treats for Sensory and Fine Motor Skills
Wednesday, November 26th, 2014
I stumbled upon this fabulous rice crispy turkey treat recipe and cannot wait to try it out. The combination of temperatures and textures make for a rich sensory experience. It's a great recipe for sensory seekers who love to get their hands messy and exciting enough to motivate sensory avoiders to get involved in the activity. The detailed décor provide lots of opportunity to practice fine motor skills. Lets take a closer look at the recipe: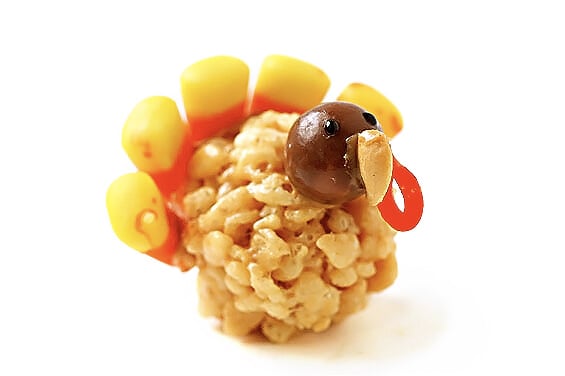 Ingredients:
Rice Crispy Treats:
1/4 cup butter
10 oz marshmallows
6 cups rice crispy cereal
1/2 cup peanut butter (omit if making classic flavor)
Turkey Decor:
Candy corn
Cashews (split in half, and then broken in two)
Whoppers (or other round, brown candy)
Black frosting
Red licorice
More peanut butter for "glue"
Method:
Melt butter in a pan, add marshmallows and mix. Once melted, remove from flame and mix in cereal –Stirring the thick mixture of marshmallows and rice crispies provides proprioceptive input to the arms and builds up strength.
While still warm, use mixture to form small balls – The warm temperature and combination of textures provides tactile input to the hands. Proprioceptive and tactile input builds sensory awareness of the hands to prepare them for fine motor activities. Luckily this recipe has a built in fine motor component following the sensory input (see step 3)!
Use peanut butter as glue (marshmallow fluff is a peanut free alternative). Tack on the candy corn (feathers), Whopper (head), beak (cashew), little red waddle (licorice), and then use black frosting to make the eyes – Here the child works on using a pincer grasp to grip the candies. Breaking the cashews in half strengthens the small muscles of the hands and promotes bilateral coordination.
Below is the link to the recipe page:
http://www.gimmesomeoven.com/peanut-butter-rice-crispy-treats/
Submitted by:  Ariela Warburg OTA &
Dr. Chaye Lamm Warburg, DPS, OTR/L, Director, POTS